Our Story
A return to the Schroon Lake of the past
In some ways, this resort marks a return to the Schroon Lake of the past. From the late 1800s until the 1950s and '60s, the lake was home to multiple resorts and hotels, including the Brown Swan Club, the Leland House and Scaroon Manor, hosting hundreds of summer guests and live performances by comedians Joey Bishop and Red Skelton and singer Sophie Tucker. The community was thrust into the spotlight in 1957, when Scaroon Manor served as the set for the filming of "Marjorie Morningstar," a coming-of-age movie about a Jewish woman, starring Natalie Wood and Gene Kelly.
The Brown Swan Club - 1916
The project is the historic restoration of the now closed/former "Word of Life" religious compound. Originally constructed as an upscale lodge named the Brown Swan Club.
The way the Brown Swan marketed to their audience was to appeal to their exhaustion:
The one outstanding characteristic of life at the Club is REST.
The Brown Swan Club: Large enough to be excellent, Small enough to be personal.
Every convenience was provided at the Club to enable guests to take complete advantage of this desire to rest. The atmosphere was balmy in health-giving qualities absorbed from the pine, spruce, and evergreen- beneficial effects upon nervous and mentally fatigued persons coping with the altitude (approx 1,000 feet above sea level).
A home for the one away from home.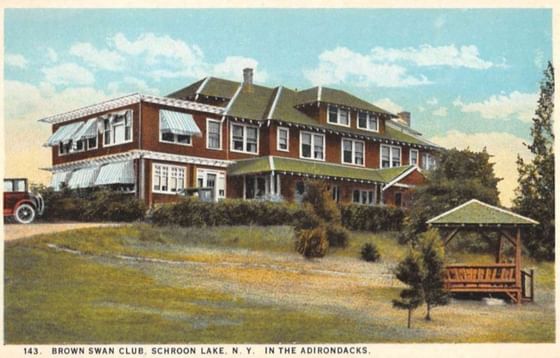 Designed by Glens Falls Architect Ward Grover Shippey (1885-1963) for owner Philip Rice of Warrensburg, New York, construction on the club grounds was started in 1916 with the erection of the first building, a framed two story brown clapboard sided cottage named "Windemere".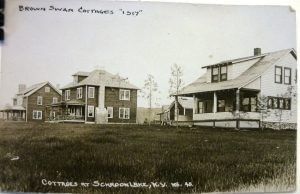 Three cottages to the east of the "Club" and "Windemere" were constructed in 1917.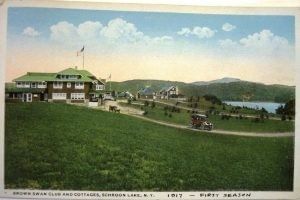 The first season at The Brown Swan Club the summer of 1917.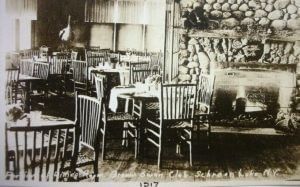 The 1917 Dining Room before the addition was added to the Brown Swan Club. Note the rustic furniture and cobblestone fireplace.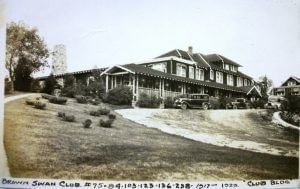 In 1929 Phil Rice decided to enhance The Brown Swan Club with an expansion of the main "Club" building with the addition of an expanded Dining Room and veranda.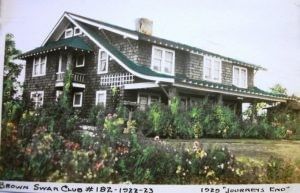 More expansion buildings on the grounds during 1929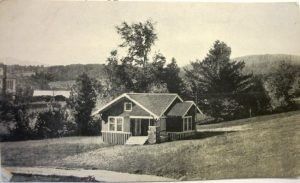 Continue 1929 expansion designed by Architect Ward Grover Shippey.